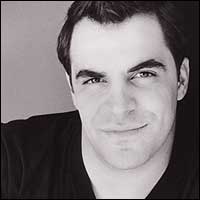 Off Broadway February 14, 2002
Reviewed by Bruce Weber
Broadcast on WQXR
Unequalibrium, a four character play for one actor has an appealingly inventive structure.
Each of the four characters, men, unrelated and unknown to one another, is given a monologue detailing his activities on a snowy night in and around Manhattan. And in the fifth monologue which returns to the first character we discover how all four men end up in a tragic encounter on West 22nd Street.
The show, written by Alex Lyras and Rob McCaskill, performed by the former and directed by the latter, I recommend on the strength of three of the individual monologues.
One is from a recently downsized webmaster, out of work, high strung in any case but particularly stressed out as we zoom in on him pacing frenetically about his untidy apartment and arguing with his girlfriend on the telephone.
The second is a plumber on a winning streak in Atlantic city and the third is a seedy lawyer who tells a fabulous nightlife story just this side of shady, over a game of pool.
Playing all three, Mr. Lyras, brings a physical robustness to characters who are nicely delineated New Yorkers.
In the writing and the acting, the men are both recognizable types and distinct personalities. The weakest character is the one who delivers the moral lesson. He's an indulgent young guy with a conscience. A junior high school teacher not above taking hallucinogenic drugs, and he witnesses the key event of the play the night before he is about to move out of the city. It moves him to a lament about mortality.
But even with this caveat, Mr. Lyras is a writer and a performer of promise
(back to the top)